7th issue - Nitya-seva newsletter
April, 2016 - 7th issue
 In the previous month we celebrated Lord Ramacandra's appearance day, and we held a smaller festival for the pleasure of Their Lordships. You may wonder:  what is the difference between a festival day and an ordinary weekday?
 
To tell the truth, seeing the amazing beauty of Radha-Syama, sometimes it is hard to tell. Many times when the curtain opens on the altar and the devotees get a glimpse of Radha-Syama, they just whisper to one another: "what kind of a festival are we celebrating today?"
Now the yellow and purple Acacia flowers are blooming in New Vraja-dhama and their tiny bell-like flowers bear a honey-like fragrance.  Just the other day Srimati Radharani tied Her lover with a rope made of these Acacia-flowers.  The demigods were so stunned by this sight, that the next day they showered flower petals on the Divine Couple – also from Acacia-flowers.  The devotees were enchanted not just by Their beauty, but by the fragrance eminating from the altar too.  The following morning Radha-Syama fascinated the devotees with Their flower-jewellery… So many of the darshans are 'festival-like', thanks to the pujaris' inexhaustible ideas and devotion.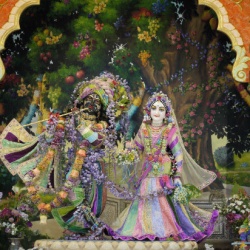 But still, what happens more on a festival day?  If we celebrate someone's appearance day, Radha-Syama are presented with a new outfit.  The pujaris make the plans two years in advance  (which outfit to offer on different festivals, since it takes long time to make one.)  The materials get emboidered in India, and the different parts are sewn together here.  In the case of Radha-Syama getting a painted outfit, then it will take a whole year to paint all of it.
 
The altar decoration too is richer compared to an ordinary weekday:  more flowers and special varieties are used to decorate both the Deities and the altar.  Before bigger festivals devotees start to make the flower-decorations or the flower-backgrounds two days in advance.  Also since Radhe-Syama love to wear flower-crowns and flower-jewellery, Their talented servants start to make the necklaces, bracelets, ankle-bells, and turban-decorations from tiny, colorful flowers early in the morning.
 
There are more offerings coming too!  The cooks start making festive preparations at sunrise of those special dishes, They don't get every day.  Sweetmeats are usually made a few days in advance, so that on the festival-day itself, devotees have more time to cook subjis, dahls, savouries, rice and different grains.  Fruit and vegetable salads also beverages are made by a different group of devotees, so there are offerings available at every hour.
 
What is most important is that so many guests are coming to see the Divine Couple on different festivals.  Devotees are always so eager to see Radha-Syama, Whose darshan makes them forget the long and tiring journey they made.  But this love is reciprocal.  Radha-Syama also eagerly wait for the arrival of Their guests too.  They are most satisfied when devotees sing Their holy names together, and hear about Their glories.  Also festivals give good opportunities to offer some personal service to Radha-Syama:  either by taking part in any of the festival-services or by offering presents and donations to Them.  They take great pleasure in tasting and reciprocating with the love and devotion of Their bhaktas.
 
Our next festival is on the 21st May, to celebrate the appearance day of Lord Nrisimhadeva.  We are inviting all of you to please come and participate in a wonderful festival at New Vradja-dhama!  Please come and take part in the temple programs and take the opportunity to offer some personal service for the pleasure of Radha-Syamasundara!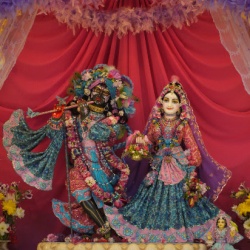 10th May, 2016.